At Muratori Machines, we design and manufacture machines and technologies for processing aluminium panels and composite materials. We work in an industrial environment and design and develop our products to facilitate the traditional production cycle of our customers, through innovative technologies that automate processes in the machining of composite materials.
We have been acquainted with this field of work for three generations and still have the desire to revolutionise traditional design and production paradigms, with a view to maximum ergonomics, practicality and ease of use. "Innovation" is a key word for us and we believe that patents are a confirmation of this. We have patented technical inventions that make the machining process better and more efficient through new technologies, and we also feel like innovators in disrupting the status quo, when we see and touch the concrete benefits our customers obtain when using Muratori Machines technologies.
Let's get to the heart of some of the patents and see how they actually improve some of the operations in the machining of aluminium and composite panels.
#Patent – Device for loading flat elements onto a machine tool
The patented automatic Alu Loader is made for loading panels and positioning them on the CNC with the Alu Ranger Vertical Table. This is the machine with vacuum suction gripper arms, connected to the vacuum system of the machining centre.
The main advantages relate to the automatic loading of panels, without the need for operators, or manual tilting and, therefore, avoiding the risk of accidental panel falls.
#Patent – Vacuum worktop for a pantograph
#Patent – Device for handling workpieces in a machine tool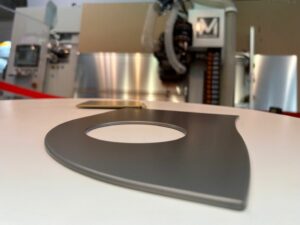 Machines and Technologies
Curve bending: how to do it on ACM panels? Alu Ranger fabricates the edges by proprietary tools obtaining the hemming of the edge. Hemming is
Leggi di più »