Focus on possible edge processing, by material and by sector
We are talking about ACM panels, aluminium honeycomb (AHC), but also HPL panels, fibre cement. Just how many times have we thought about how to hide the edges of these panels or how to face them? Today we finally have the right answer to solve this problem. Thanks to Alu Bender it is possible to process the edges of panels for architectural façades, interior design, the transport industry and visual communication. Yes, but how?
It is a fact: the edges of machined panels need to be improved in order to leave them "exposed". Depending on the material in question and the intended use of the machined panel, the edge of the panel can be covered or a finish can be applied over it, adopting manual solutions. What do we choose and, more importantly, on the basis of what do we choose?
Think about the world of ventilated façades or the world of transport: what is the common denominator for panels exposed outdoors?
Aluminium or composite panels are necessarily exposed to the weather or natural elements, which can cause them to deteriorate.
Therefore, panels made of ACM/ACP, Pe Core, Mineral Core, Aluminium Honeycomb, Aluminium Corrugated Core, but also those made of solid aluminium, HPL or Fibre cement need to be processed in a specific way, according to the material characteristics and application context.
We started from here to design and manufacture Alu Bender, the multifunctional automatic bending machine for machining panel edges.

Why Multifunctional?
Alu Bender is multifunctional because it improves panel edges through
 – hemming
 – folding
 – crushing
 – finishing
 – edge protection
considering the characteristics of each material and ensuring industrial productivity.
Let's go into detail about materials, requirements and edge processing.
Edge processing of ACM / ACP panels (PE CORE and MINERAL CORE)
In the fields of Architecture, Transport, Interior Design or Visual Communication, "non-box" panels are processed as rectangles with sharp-edged edges, exposed to the elements and unattractive to the eye. Edge protection expands the use of panels into areas usually reserved for other materials. This is where Alu Bender mills the panel and bends the exposed skin, covering the core and protecting it from weathering. The edge bending radius is perfect for all types of aluminium composite panel.
Edge processing of aluminium honeycomb panels for the ventilated façade and transport sector
By milling and bending one of the two skins, Alu Bender improves the protection of the core from the weather and covers it from view. The bending radius at the edge is perfect for all types of aluminium honeycomb panels. In the transport industry, aluminium honeycomb panels are coupled by means of aluminium profiles to make partition walls. Flattening along the edges allows the panels to be inserted into 'H' profiles or assembled in pairs. Normally the flattening process is performed by presses that have limitations in the length of the panel to be processed.
What is the added value of Alu Bender here? The Alu Bender automatically performs continuous crushing by working on any length.
Edge processing of solid aluminium panels for ventilated façades
In this case, Alu Bender mills the panel and bends the pre-painted skin, covering the edge from view and weathering. The bending radius on the edge is perfect for all types of solid aluminium panel.
Edge processing of HPL panels, for ventilated facades, but also for interior design
Machining this material can result in obvious blade marks, chipping, edge dullness and sharp edges. The use of a machining centre improves the finish but causes a loss of productivity and high labour time costs. Alu Bender allows fast and perfect edge finishing with reduced machining costs and therefore without the use of a CNC. In a single machining cycle, it is possible to obtain a perfect finish of the edge surface and to smooth its edges.
Edge processing of fibre cement panels, for ventilated façades, but also for interior design.
Cutting with a circular saw requires further processing to chamfer the edges of the edge to prevent brittleness. The edge requires further manual treatment against moisture using a special liquid. In this case, Alu Bender chamfers both edges of the edge and automatically applies LUKO® liquid or similar in a single processing cycle.
Edge processing of corrugated aluminium core panels for ventilated facades and transport.
Corrugated or profiled aluminium core may not be treated for corrosion protection. Exposure to weathering can cause it to deteriorate. Here again, by milling and bending one of the two skins Alu Bender improves the core's protection from the elements and covers it from view. The bending radius is perfect for all types of panels with corrugated or profiled aluminium cores.
What can you do specifically?
Read more here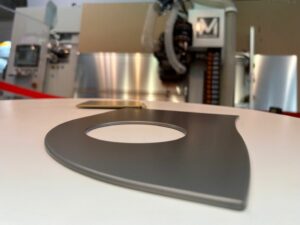 Machines and Technologies
Curve bending: how to do it on ACM panels? Alu Ranger fabricates the edges by proprietary tools obtaining the hemming of the edge. Hemming is
Leggi di più »