We disrupt the status quo and revolutionise traditional design and production paradigms with a view to maximizing efficiency, ergonomics and safety.
This is our mission and this is the direction in which at Muratori Machines – formerly known as Casadei Industria Alu – we conceive and design our machining centres with vertical table and technologies for processing aluminium composite panels, ACM/ACP, HPL and fibre cement, aluminium honeycomb panels and panels with corrugated or profiled aluminium core.
The Machining Centres we had been used to feature a horizontal table, whereas we at Muratori Machines designed and developed the CNC Machining Centre with a Vertical Table for high-speed milling, drilling and sectioning, ideal for composite panels used in architecture, transportation, interior design and the world of visual communication.
To occupy less space
Thanks to their verticality, our Alu Ranger oneR, oneR Pro and VGroove CNCs save 60% floor space compared to a horizontal machining centre. We know how important the topic of space is in our companies and how generating efficiency in this respect is also crucial for a successful business.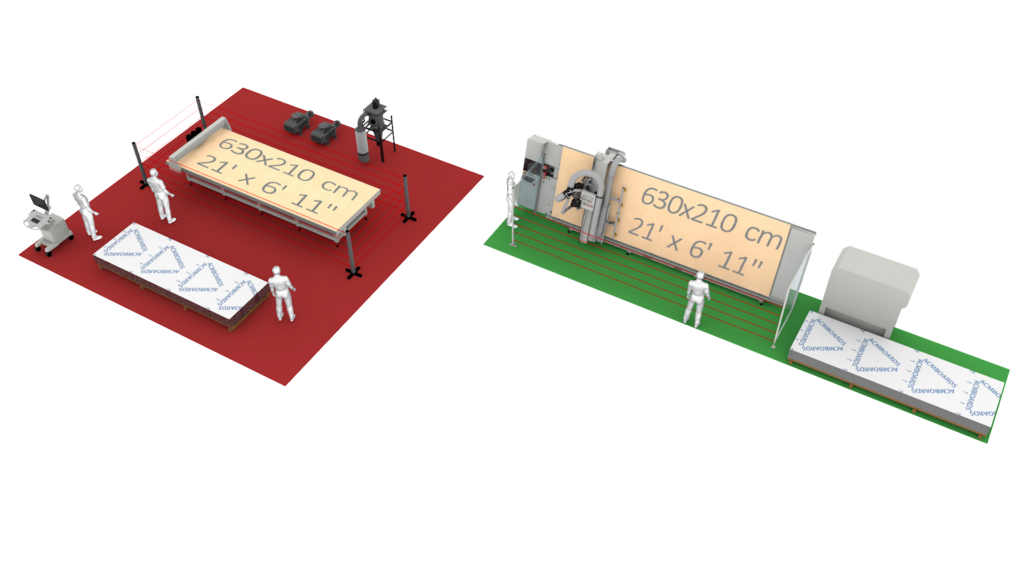 For greater ergonomics and safety
The operator working on the CNC with the vertical table has much more ergonomic access to the work surface and this provides him/her with a higher degree of safety, which is also enhanced by the side fences and photoelectric cells.
The ergonomics of the machine also derive from the greater visibility of the result which the vertical table provides during machining, and from the partialisation of the vacuum during unloading of the panels, to support them at the end of machining, while the operator picks them up.
Thanks to the compactness of the integrated work cell and the verticality of both the loader and the machining centre, the operator always enjoys full view and therefore perfect control of the entire process.
For a cleaner work surface
The verticality of the worktable also becomes synonymous with greater cleanliness: the shavings produced during machining, which are not sucked up, fall to the floor, leaving the worktable perfectly clean. This becomes even more important when machining ACM panels, where the finished surface rests on the clean worktable, and is thus prevented from being damaged.
So, choosing the CNC with Vertical Table allows you to:
save 60% of surface area, compared to a horizontal machining centre
provide the operator with greater safety
have ergonomic access to the work surface
obtain greater visibility of the result during machining
operate on a cleaner work surface