The winning line-up for complete and patented automation in the composite panel machining process is called the Integrated Work Cell and is part of the technology solutions, signed Muratori Machines.
The Integrated Work Cell has been designed and built to fully meet the specific needs of those who process composite panels and require advanced and innovative tools for crucial phases of the production cycle, such as loading, positioning on the CNC, machining and unloading of machined panels.
We refer to panels, often heavy and large, made of composite materials such as ACM (PECore or Mineral Core), solid aluminium, aluminium honeycomb panels, wood, HPL and fibre cement.
These are the panels that have to be taken from the pallet and positioned correctly on the machining centre, to be processed and then unloaded from the table for further processing.
How did we automate loading, positioning and unloading?
We have made this possible precisely by integrating three patented Muratori Machines technologies into the:
Alu Ranger: Machining Centre with Vertical Table for Machining Panels for Architectural Facade Fabrication 
Off Loader (patented): Automatic unloader of machined panels via vacuum table. 
What are the concrete benefits of this integrated automated system?
The possibility of working in a continuous cycle, as the machining process is independent of loading and unloading operations
Increased daily productivity, thanks to the efficiency generated by automation on the machines, which enables high work rates
Cost reduction: need for only one operator to oversee the entire production cycle
Increased efficiency: possibility of using resources for higher value-added activities, compared to loading and unloading operations
Increased safety for the operators: automation prevents operator fatigue and there is no risk of panels accidentally falling.
Smart Factory data integration and sharing (Industry 4.0 readiness)
The Integrated Work Cell, thanks to the technologies making it up, also makes it possible to solve both the problems of limited space, in the production area, and those of the necessary tipping of panels, in some cases, before they are loaded onto the Work Centre. How? Thanks to the automatic operations of the Alu Loader arms and vertical solutions. 
Find out how the Integrated Cell works, the specifications of the individual technologies, their patents and the specific advantages at the stage of the production cycle in which they are involved.
Alu Loader

It loads and positions the composite panels from the pallets automatically, picking them up with vacuum suction gripper arms, placing them on a surface equal to the work centre table in height and inclination.

Alu Ranger VGroove

Alu Ranger VGroove is the powerful Vertical Table Machining Centre for very high speed cutting, drilling and milling, made for composite panels used in architecture, transport, interior design and visual communication.

Off Loader

Vacuum table connected to Alu Ranger Vertical Table, equipped with patented breathable cloth, which automatically unloads the composite panels, lifting up and tilting to be parallel to the table top.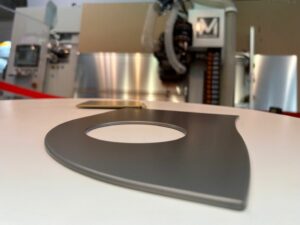 Machines and Technologies
Curve bending: how to do it on ACM panels? Alu Ranger fabricates the edges by proprietary tools obtaining the hemming of the edge. Hemming is
Leggi di più »