How to make pallet to CNC loading more efficient?
Composite material panel handling activities also involve the loading and positioning of the panel itself on the Machining Centre which are undoubtedly of key importance for customers who are looking to improve their machining process.
How can loading operations be performed?
There are some precautions to consider, both regarding personnel and to panel positioning. In fact, loading the panel from a pallet onto a horizontal machining centre requires two or more operators, and the ACM panel must be flipped, as it is generally placed on a pallet with the "side to be worked" facing downwards. Furthermore, we must consider that in the case of HPL and fibre cement panels, the load in question is extremely heavy for the operators involved.
Is there a more efficient solution that safeguards operators?
In this scenario, it became mandatory for us at Muratori Machines to think of and design a more efficient solution, in terms of time and resources involved, for composite panel loading operations. We created, developed and patented an automatic system – Alu Loader – that picks up the panel from pallets by lifting it and placing it back on its own structure.
How does this overcome operator and correct panel positioning issues?
The Alu Loader is designed to take the panel from the pallet and flip it so that the "side to be worked" automatically faces the Alu Ranger CNC tools. The pneumatic arms of this automatic loading system are able to lift heavy weights and handle them smoothly. Once the Alu Loader has lifted the panel and placed it in the correct position, it is picked up by the Alu Feeder, which is a system connected to the Alu Ranger's crossbeam, equipped with suction cups, and which enables the panel to be moved into position for machining on the Alu Ranger.
Summing up, what are the 3 main advantages of this system?
The panels are automatically positioned correctly: Alu Loader solves the problem of panels with the side to be machined stored face down.
Production space-saving: in a vertical position and to the right of the Alu Ranger CNC, Alu Loader occupies incredibly little space and enables direct pick up from pallets.
A single operator involved in the entire loading-machining-unloading process: Alu Loader has been designed and built for Alu Ranger so that, together with Off Loader – the patented automatic system for unloading panels machined by the CNC – it becomes an integrated work cell controlled by a single operator.


Discover all the advantages of automatic composite panel loading and unloading systems and learn more about the specifications of Alu Loader, Off Loader and Integrated Work Cell.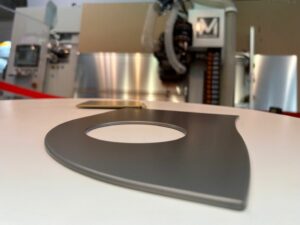 Machines and Technologies
Curve bending: how to do it on ACM panels? Alu Ranger fabricates the edges by proprietary tools obtaining the hemming of the edge. Hemming is
Read more »