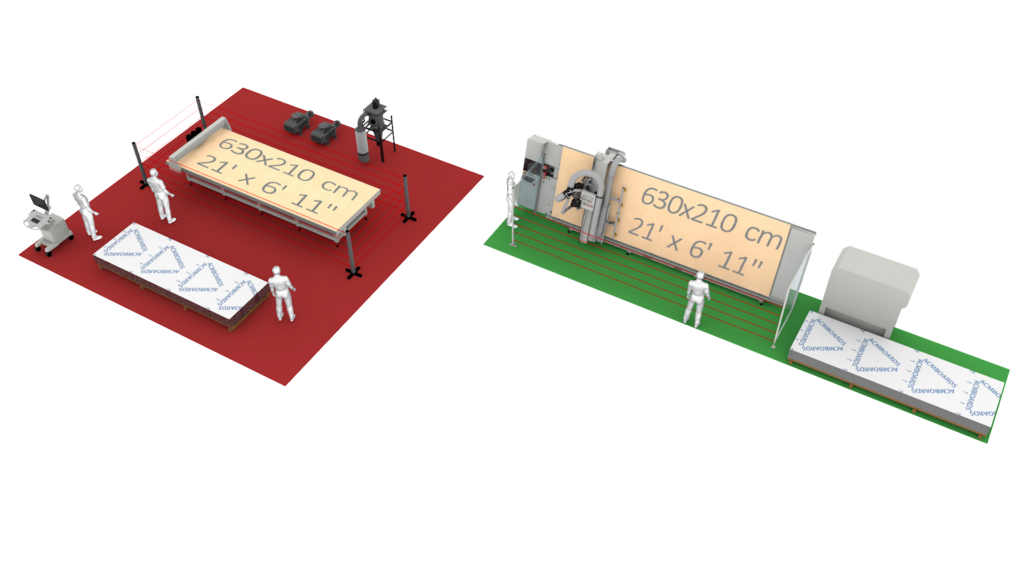 Far from being a problem, convert composite panel CNC to a resource. In less space.
Short on production space? Then you should choose your CNCs carefully for processing composite panels.
Lack of space is a problem faced by many companies. It is a key resource for generating efficiency and containing costs.
To overcome shortage of space in production environments of operators processing composite panels, in Muratori Machines we have developed and patented technologies which enables them to work in restricted space areas, thanks to the CNC with Vertical Table, by making this Unit more ergonomic, accessible, and efficient.
Up to 60% space saving. This is how we did it.
Compared to traditional machining centres, Muratori Machines' Alu Ranger CNC provides space saving of up to 60% because, as the table is arranged vertically, there is only one side of photocells opposite the worktable, the vacuum pumps are positioned behind the table and integrated into the machine, and the electrical cabinet and CNC control desk are part of the machine.
Thanks to the ergonomics of the Vertical Table, loading, unloading, maintenance and tool change operations are all made easier, thus safeguarding operators occupational health and safety who do not need to bend down as in the case of horizontal worktables.
Ergonomics of the machine have also been enhanced by making the outcome more visible, provided by the vertical table during machining, and patented vacuum partitioning, during unloading of the panels, supporting them after machining has been finished, while the operator picks them up.
CNC Alu Ranger: a cleaner worktable, with higher quality and productivity
The vertical position of the worktable also means a cleaner work environment: shavings produced during machining, which have not been suctions, fall to the floor, leaving the worktable perfectly clean. This becomes even more important in the machining of ACM panels, where the good side rests on the clean work surface, thus avoiding damage.
All this results in high machining quality and increased daily productivity.
Efficiency of the integrated continuous Cycle
We have raised the bar. Efficiency of the integrated continuous Cycle (loading-machining-unloading) thanks to automatic handling.
Patented automatic solutions can also be integrated with the Vertical Machining Centres for continuous cycle processing, automating composite panel loading, positioning and unloading.
Not least, the Alu Ranger CNC range enabled machining of various material composite panels: ACM/ACP, HPL, fibre cement, solid and honeycomb aluminium panels and corrugated or profiled aluminium.
See the technical sheets: https://bit.ly/3THRmVV