Alu Loader is the Loader-Positioner for composite panels with 2 lifting arms with suction cups, connected to the vacuum system of the Alu Ranger
The 3 main benefits of the Alu Loader are simple:
➊ The Alu Loader firstly reduces the need for multiple machine operators, this is a cost saving and enables additional staff to pack and prepare panels for dispatch. 
➋ Secondly, it's automated. The machines linking together simultaneously will mean highly efficient fabrication with substantially reduced stoppage, when one panel is being cut the next is being prepared for fabrication. 
➌ Thirdly, the reduced need to handle panels will mean less damage to stock as the pallets simply need to be placed in the loading area, also provides better ergonomics protecting staff.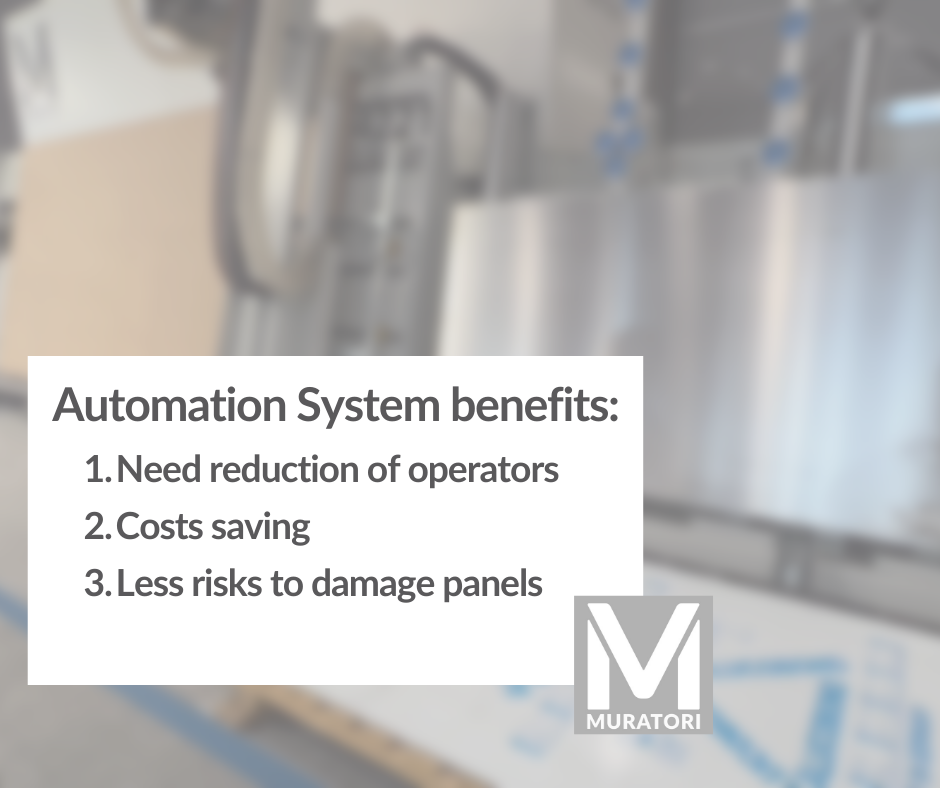 The Alu Loader 𝗿𝗲𝗱𝘂𝗰𝗲𝘀 𝗹𝗮𝗯𝗼𝘂𝗿, 𝗳𝗿𝗲𝗲𝘀 𝘂𝗽 𝗺𝗮𝗻𝗽𝗼𝘄𝗲𝗿, 𝗮𝗰𝗰𝗲𝗹𝗲𝗿𝗮𝘁𝗲𝘀 𝗽𝗿𝗼𝗱𝘂𝗰𝘁𝗶𝗼𝗻 and ensures volume fabrication is done with ease.
𝗜𝘁 𝗺𝗮𝘅𝗶𝗺𝗶𝘀𝗲𝘀 𝗼𝘂𝘁𝗽𝘂𝘁 and adds value to the software that enables this to 𝗶𝗻𝗰𝗿𝗲𝗮𝘀𝗲 𝗽𝗿𝗼𝗱𝘂𝗰𝘁𝗶𝘃𝗶𝘁𝘆.
𝙏𝙖𝙣𝙜𝙞𝙗𝙡𝙚 𝙗𝙚𝙣𝙚𝙛𝙞𝙩𝙨
All the above and not forgetting the 𝗰𝗼𝘀𝘁 𝘀𝗮𝘃𝗶𝗻𝗴 𝗽𝗿𝗼𝘃𝗶𝗱𝗲𝗱 by this one of set up cost. 
Our customers will quickly see the huge return on investment created by 𝗶𝗺𝗽𝗹𝗲𝗺𝗲𝘁𝗶𝗻𝗴 𝘀𝘁𝗮𝘁𝗲–𝗼𝗳–𝘁𝗵𝗲 𝗮𝗿𝘁 𝗮𝘂𝘁𝗼𝗺𝗮𝘁𝗶𝗼𝗻. 
The Alu Loader is only the first step, we also have the Off Loader and Alu Folder 𝘁𝗼 𝗳𝘂𝗿𝘁𝗵𝗲𝗿 𝘀𝘂𝗽𝗽𝗼𝗿𝘁 𝘆𝗼𝘂𝗿 𝗽𝗮𝗻𝗲𝗹 𝗳𝗮𝗯𝗿𝗶𝗰𝗮𝘁𝗶𝗼𝗻 𝗽𝗿𝗼𝗰𝗲𝘀𝘀.