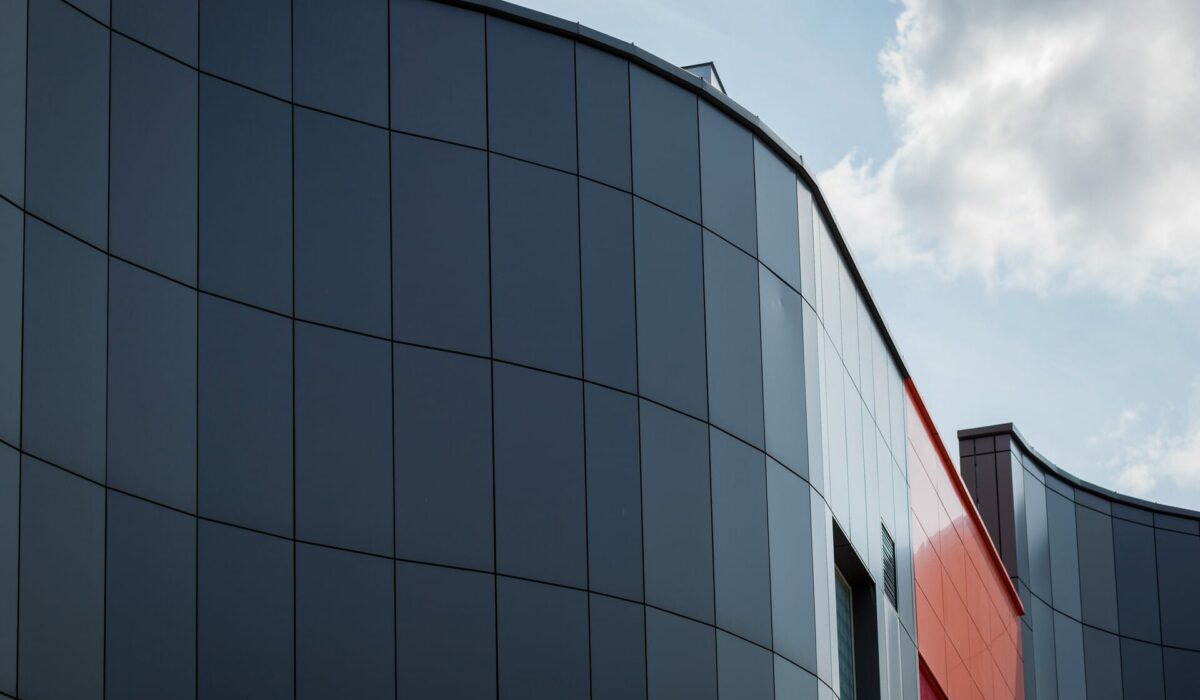 Who uses CNC to convert composite panels?
The professions and trades involved in façade cladding are many, and this article addresses those who more closely work with the materials and components that will form the building shell. Starting with those who work in the composite panel distribution chain, spanning facade builders and sheet metal workers, but also in the different Industrial sectors, Visual Communication or Transport Industry. 
Which composite materials do they primarily process?
These are the professionals that come most often in contact with ACM (Mineral/PE Core), solid aluminium, or AHP, Wood, HPL and Fibre Cement panels, to name the main ones.
These are the professionals directly involved in the conversion of panels, in Architectural projects, in Industrial and Visual Communication sector or in Transport Industry.
These are the professionals with whom we have been dealing for over 15 years, first and foremost by listening to their requirements.
Starting from these specific focus points, we designed an built Alu Ranger, the CNC with Vertical Table. The three Alu Ranger units –  Alu Ranger oneR, Alu Ranger oneR PRO and Alu Ranger VGroove –  are designed and manufactured with the same common denominators, are distinguished primarily by their degree of daily productivity and flexibility for working different materials.
What features does a CNC need to meet customers' needs?
A vertical structure, designed to take up 60% less space, both as a single machine and as a work cell for panel loading-machining-unloading.
A powerful spindle, a series of diamond tool kits for abrasive cores, such as mineral cores, and top-quality component parts that ensure greater precision and speed.
Aggregates with vgroove blade or cutter, featuring patented extraction hood and cutting direction-controlled axis, whereby V cuts or mills can be made at high speed, compared to slot mills.
A unit suitable for performing difficult cutting operations on HPL and Fibre cement, making this machine extremely efficient.
The option of equipping the machine with the Alu Loader+Alu Feeder automatic loading and positioning system and the automatic Off Loader system for unloading CNC-worked panels.
CAD-CAM software, developed in conjunction with our technicians, software house and working with customers around the world, which automates the process of importing machining files.
Therefore, compared to other horizontal Machining Centres, the Alu Ranger CNC with vertical worktable enables operators to save space, prioritise the ergonomics of panel loading and unloading operations, naturally optimising the cleanliness of the worktable and guaranteeing greater safety for the operator (the spindle works in such a way that in the event of ejection, there is no direct exposure of the operator nearby). Finally, compared to a horizontal unit, a vertical one is inherently more rigid, providing precise machining and vibration absorption during panel machining.
The time factor is also always extremely important to us and our customers. Thus, we have also focussed on optimising the setup of the machining centre once it arrives at the production site. Our machines can be defined as plug&play, as they are shipped assembled and ready for start-up.
Not just the panel surface: you can also machine edges with the Alu Ranger.
All Alu Ranger machines can perform milling and curve bending on ACM to improve edges and hide the core from view. This machining is called edge hemming.
Normally, ACM is used outdoors, but given some of its main features and edge enhancement, it is also an excellent material for interior finishing. Interior design for instance, both for the furnishing of homes and offices, as well as commercial environments.
Discover all the advantages of the 3 Alu Ranger Muratori Machines